Despite a sharp rise in home prices in 2020 and impacts from the pandemic-induced lockdown restrictions, the country's housing risk remains "moderate."
That's according to the third-quarter Housing Market Assessment published by the Canada Mortgage and Housing Corporation (CMHC).
"In contrast with the second quarter of 2020, where the initial impact of the COVID-19 crisis was felt most acutely, housing market activity across the country increased significantly in the third quarter," CMHC noted.
But while home sales rebounded as the year progressed, new listings coming onto the market didn't keep pace, which caused inventory levels to hit a record low, which in turn drove prices higher across the country "beyond what could be supported by fundamental factors."
"This led to an increase in the number of Census Metropolitan Areas (CMAs) exhibiting either a moderate or high degree of vulnerability in the third quarter," the housing agency added.
Hamilton and Moncton were the only two CMAs tracked by CMHC to receive a high overall risk assessment in the third quarter. Seven of the 15 CMAs received a moderate rating.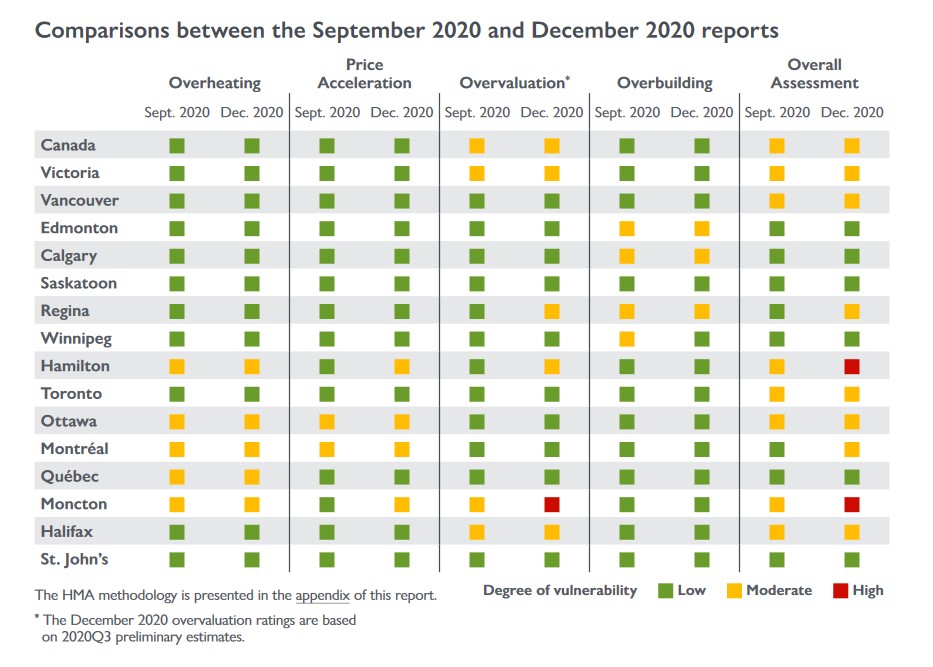 CMHC's evaluation looks at four risk categories: overheating, price acceleration, overbuilding and overvaluation.
In terms of overvaluation, Victoria, Regina, Hamilton and Halifax are considered moderate risk, while Moncton received a high-risk rating. At the national level, CMHC noted that "observed house price growth in the third quarter significantly outpaced growth in the fundamental price, resulting in a widening of the overvaluation gap."
Overvaluation in the national housing market peaked in 2016-17 before falling back to a balanced level by the end of 2019.
Markets with a low overall vulnerability were mostly confined to the harder-hit resource-based housing markets in the Prairie provinces and Atlantic Canada, where prices have remained weak for several years. They include Edmonton, Calgary, Saskatoon, Winnipeg and St John's.
What are the Ramifications?
As prices continue to increase, particularly in the country's large urban centres, we're seeing more evidence of people leaving the cities to more affordable markets in the surrounding areas—a trend that first began soon after the initial lockdown restrictions last spring.
New data from Statistics Canada shows both Toronto and Montreal experienced record-high population losses to its surrounding areas between July 2019 and July 2020. Toronto saw a net loss of more than 50,000 people during that time, while Montreal saw a net loss of about 25,000 people.
"In Toronto, the net loss was mainly driven by people moving to surrounding CMAs," StatsCan noted.
Meanwhile, more than a third of Canadians (38%) who plan on buying a home in the next two years say they plan on looking at properties in the suburbs or a commuter city. That's according to a surveyby RBC.
There may be one bright spot for those waiting to enter the market — there are signs the price growth is already relenting and will slow further this year, according to economists from National Bank. That observation was made in the latestTeranet-National Bank House Price Index, an aggregate price index of Canada's largest 11 real estate markets.
"The unsmoothed composite index, seasonally adjusted, was up 0.8% in November – a cooling from the rises of the previous three months," the economists wrote," suggesting that the uptrend of the published (smoothed) index could slow in coming months."
Regardless of what happens with house prices, , a majority of Canadians continue to see the benefit and value of homeownership, with 80% saying buying a home is a good investment.
"Many Canadians continue to be financially resilient in the face of the pandemic, and this has carried over into the real estate market," said RBC's Amit Sahasrabudhe, VP, Home Equity Financing, Products and Acquisitions.
"Seen as a pillar of stability, Canadians continue to view homeownership as a worthwhile pursuit and are willing to shift their priorities in order to find affordable property within their budget."